Published: 30 November 2015

30 November 2015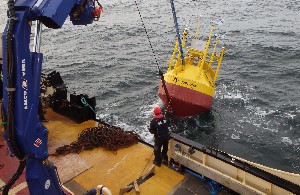 The buoy with equipment for laser-supported remote sensing (LiDAR) passed its first real test in the shape of the winter storm "Freja" just one week after its installation.
Significant wave heights of up to 4.5 metres were measured in the Danish North Sea off the coast of Thyborøn. The buoy will be in use until February 2016 for measuring wind speeds at heights of up to 250 metres as part of the RUNE re-search project (Reducing the Uncertainty of Near-shore wind resource Estimates using onshore lidars) conducted by the Technical University of Denmark (DTU). A correction algorithm developed by Fraunhofer IWES deducts the buoy's proper motion on the waves from the measured values in order to ensure the high quality of the wind measurements. In 2014 the buoy achieved a very good correlation with respect to the validation measurements taken in the vicinity of the North Sea met mast FINO 1.