Published: 31 October 2022

31 October 2022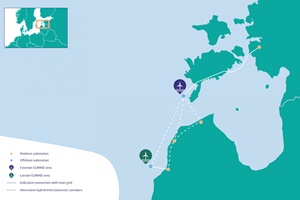 The governments of Estonia and Latvia have selected the locations in their respective parts of the Baltic Sea where their joint offshore wind energy project, Elwind, will be built.
During the preliminary study for selecting the location, commissioned jointly by the two countries, various marine areas were examined. Based on research and analysis, the territory on the coast of Kurzeme (Latvia) and the marine area near the island of Saaremaa (Estonia) were recognised as the most suitable development areas for the implementation of the joint project. The time plan for the Elwind project foresees that environmental impact assessments and all necessary construction permits will be arranged by 2025, but in 2026 it is planned to organise auctions for merchants who want to get involved in the implementation of the project. The deadline for completion of the project is planned for 2030. The project is being implemented by the Ministry of Economics of Latvia, the Investment and Development Agency of Latvia (LIAA), the Latvian grid operator Augstsprieguma tīkls (AST), the Estonian Ministry of Economic Affairs and Communications, and the Environmental Investment Centre.