Published: 10 April 2019

10 April 2019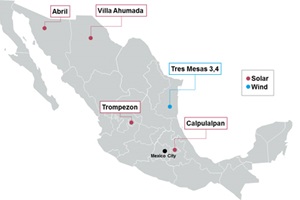 Engie and Tokyo Gas have announced their intention to invest in Heolios EnTG, a 50/50 joint-venture company to develop renewable energy projects in Mexico. Heolios EnTG will develop, finance, construct, own, operate and maintain six renewable energy projects in Mexico.
Two of the plants are onshore wind while the remaining four are solar photovoltaic, totaling 898.7MW. The joint-venture received approval from Mexico's federal competition commission, COFECE, on March 28, 2019. The projects were granted 15-year power purchase agreements through Mexican power auctions. One of the power plants, Tres Mesas 3, is a 50MW wind power facility that entered into commercial operation in March 2019, ahead of schedule. The remaining plants are currently in various stages of construction and will start commercial operation in 2019 and 2020.