Published: 26 February 2020

26 February 2020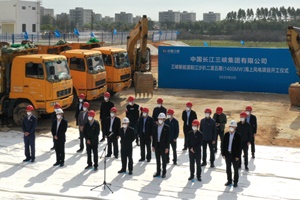 China Three Gorges (CTG) has announced a total of 25 new energy projects with a total investment of RMB 58 billion. With an installed capacity reaching 3.92GW the projects will be built in 14 provinces and regions across the country, including Guangdong, Jiangsu, Fujian, Ningxia Hui autonomous region and Hebei.
Among the new projects are the 800MW offshore wind farm in Rudong, Jiangsu and the 1.4GW offshore wind farm in Yangjiang, Guangdong which have a combined investment of RMB 42.4 billion. The two wind farms, scheduled to be fully operational by 2021, will house more than 414 domestically manufactured large-capacity wind turbines
As the first ±400kV flexible direct-current transmission project in China, the Rudong project has a DC submarine cable with a transmission distance of 100km. The Yangjiang Project will be built in five phases. The first phase, which has a capacity of 300 MW, has been connected to the grid for power generation at the end of November 2019. The second to fifth phases, with a combined capacity of 1.4 GW, are now kicking off simultaneously.