Published: 27 April 2023

27 April 2023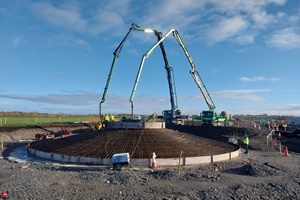 Yellow River Wind Farm in Rhode, Co, Offaly has reached a construction milestone with the pouring of concrete on the project's first wind turbine base. Alongside lead contractor Farrans, and supply chain members, KR Formwork, BD Flood Concrete and Erne Concrete Pumping, SSE Renewables has successfully completed the first of 29 concrete pours for Yellow River wind farm.
The 46 ready-mix lorry deliveries, from local supplier BD Flood carried the concrete to the first turbine site from local batching plants. Each turbine base will support one of 29 Nordex N117/3600 wind turbines. SSE Renewables commenced construction on the wind farm in October 2022, with the expected completion date in 2024.