Published: 19 July 2021

19 July 2021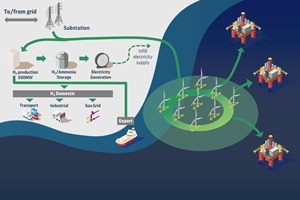 Cerulean Winds has signed an agreement with px Group, a UK operator of large-scale industrial facilities, to support onshore green hydrogen plants and associated industrial infrastructure.
The agreement is part of Cerulean Winds
plans
for an integrated 200-turbine floating wind and hydrogen development in the North Sea. The three onshore hydrogen sites would be located in the North of England, North-east Scotland and on Shetland. Under the agreement, px Group would be responsible for lease and ownership arrangements for the sites and for obtaining planning permissions and permitting. This new agreement would see px Group operate the hydrogen generation facilities and the associated onshore infrastructure, including the onshore substations and grid connections. The progression of Cerulean's £10 billion green infrastructure plan hinges on a decision from Marine Scotland. The company has made a formal request for seabed leases.