Published: 07 August 2023

07 August 2023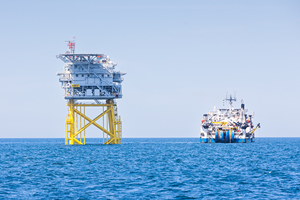 Avangrid, part of the Iberdrola Group, has unveiled the offshore wind substation at its Vineyard Wind 1 project. The company was joined by key stakeholders to offer an exclusive first look at the new substation and the ongoing construction off the coast of Massachusetts, USA.
Avangrid's Vineyard Wind 1 offshore substation will collect power generated by the project's 62 wind turbine generators and bring it to the onshore power grid through two export cables. Vineyard Wind 1 is expected to deliver power before the end of this year and, once completed, the facility will generate 806 MW of clean, renewable energy. The substation is the first one ever installed in the U.S. and the sixth and largest in the Iberdrola Group's global fleet to date. So far, Iberdrola has installed five other substations at its West of Duddon Sands (UK), Wikinger (Germany), East Anglia One (UK), St. Brieuc (France), and Baltic Eagle (Germany) offshore wind farms.