Published: 29 March 2023

29 March 2023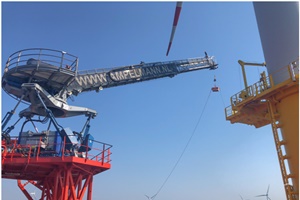 Ampelmann has signed six new contracts in the offshore wind market in the United States for 2023, 2024, and 2025. The contracts set for 2023 have been secured for work on two new offshore wind farms being built off the coast of New England.
In the coming year, Ampelmann's motion compensated gangways will assist with the hook-up, cabling, and commissioning of turbines on the Southfork and Vineyard offshore wind farms. The first project is on the Southfork wind farm, located on the outer continental shelf near Rhode Island, and the second project takes place on the Vineyard wind farm, located off the coast of Massachusetts. Both projects will involve the use of the E1000 system and the A300. The E1000 can convert from personnel to cargo transport mode and has a lifting capacity of 1,000kg. The Ampelmann A300 is able to convert from crane to gangway mode and can carry cargo up to 300kg.