Published: 25 January 2019

25 January 2019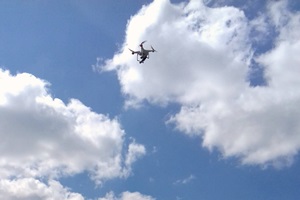 ZX Lidars has demonstrated the use of Drone Wind Lidar to accurately measure the wind. The company has now achieved accurate wind Lidar measurements from a commercially-available drone (an Unmanned Aerial Vehicle) for demonstration purposes, and trialed the system successfully during summer 2018.
Dr Michael Harris, Director of Science at ZX Lidars has been the driving force behind this latest innovation. A number of ZX Lidar systems are available for trialing in this or similar applications and the 2018 Drone Wind Lidar trial results will be presented at the Wind Energy Science Conference (WESC) 2019.