Published: 14 September 2023

14 September 2023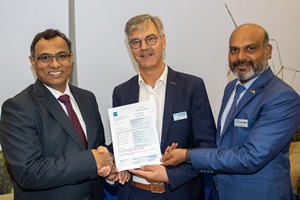 WindGuard Certification has presented the type certificate for India's largest wind turbine generator (WTG) made by Adani Wind, the wind energy solutions division of Adani New Industries Limited (ANIL).
WindGuard Certification completed the type certification for Adani Wind's new 5.2 MW WTG in accordance with IECRE OD-501 within 18 months and this enables Adani to start series production. The turbine has a tip height of 200 meters and a rotor diameter of 160 meters. The design basis evaluation in March 2022 was the first step in the certification process. Subsequently, the WindGuard Certification team conducted the design evalu-ation and the main components' manufacturing evaluation at the production sites. Affiliated company Deutsche WindGuard Consulting concurrently performed the type testing of the WTG prototype installed by Adani in Mundra, India, towards the end of 2022. This included mechanical load and power curve tests, while WindGuard Certifica-tion carried out the required power quality tests.