Published: 17 November 2022

17 November 2022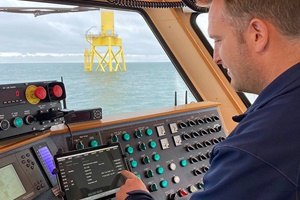 Windcat Workboats has installed Reygar's Digital Daily Reporting System, Digital DPR, across its entire fleet of over 50 workboats. The Digital DPR (DDPR) app runs from a touch screen tablet onboard and the reporting technology has been trialled on several of Windcat Workboats' CTVs over the past 18 months.
Feedback from skippers and management was positive and fleet wide rollout was completed in mid-October. The app can be customised to gather a wide variety of DPR data, including crew details, fuel and consumables use, various task types, transits, passenger transfers to turbines and working hours data. Data input live from the vessel can be seen instantly in the cloud by shore staff, with users also able to access cloud based KPI data.