Published: 27 September 2022

27 September 2022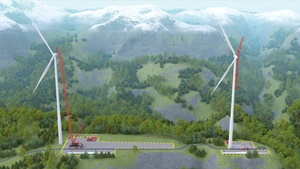 A new crane design could soon be bringing major improvements to the way Vattenfall's onshore wind farms are built.The climbing crane concept uses the turbine tower instead of the ground for support as it adds more sections in stages, with no limit on how high it can go.
Although it is still on the drawing board, progress to date has been encouraging and a Vattenfall team from its Business Unit Onshore Wind is now working with experts from heavy lifting company Mammoet to take the development of their concept forward with hopes the new technology could be seen on sites within the next few years. The climbing crane would be able to reach greater heights and operate in locations with up to 80 percent more wind, unlocking new complex and remote wind farm sites. Due to its much smaller engine and capacity requirement, the crane could be powered by electricity instead of fossil fuels.