Published: 23 July 2019

23 July 2019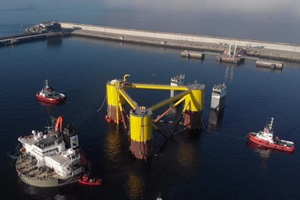 The installation of the first Windfloat Atlantic turbine on its floating platform has begun in the outer harbor of Ferrol, Spain. The fabrication and load out of this first WindFloat was successfully completed in Fene, and the platform has been moored to the quayside in Ferrol, where the installation of the wind turbine will begin.
The assembly will take place over the coming weeks in preparation for the offshore operations, scheduled for the end of summer, when the floating structure will depart for its final destination off the coast of Viana do Castelo (Portugal).
The project belongs to the Windplus consortium, which is jointly owned by EDP Renováveis (54.4%), ENGIE (25%), Repsol (19.4%) and Principle Power Inc. (1.2%). The three turbines that comprise the wind farm will be mounted on floating platforms anchored to the seabed, and will collectively deliver an installed capacity of 25 MW.