Published: 02 March 2023

02 March 2023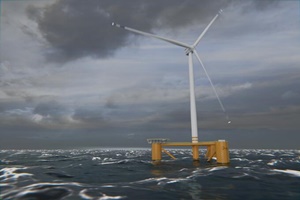 Odfjell Oceanwind has launched its Deepsea Star designed to take 15MW and larger wind turbine generators (WTGs). The Deepsea Star is a column-stabilised, semi-submersible steel design with centre WTG tower, designed to take the weights and loads from the 15MW WTGs.
The centre tower reduces the required displacement which gives benefits like reduced draft at quayside, lower environmental loads acting on the structure and reduced overall steel weight. The Deepsea Star is currently undergoing the Basic Design Approval from DNV based on Siemens Gamesa's SG 14-236 DD and a multi-location design basis which includes the harshest environment locations relevant for floating offshore wind globally. The Deepsea Star will be available for deployment from the mid 20's. The Deepsea Star design is also scalable to larger WTGs up to 21MW, expected to become available from 2029/30.