Published: 19 April 2018

19 April 2018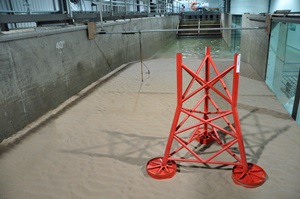 The Borkum Riffgrund 2 offshore wind farm, for which construction has begun in the German North Sea, will have 56 8MW turbines, including 20 suction bucket foundations. Prior to their deployment, the foundations were part of a research project carried out with Ørsted by HR Wallingford in its Oxfordshire Fast Flow Facility.

HR Wallingford worked with Ørsted to help to refine the design of the suction bucket foundation , as part of a research project investigating scour effects and the most suitable scour protection for the novel foundation structures. The ten-month study included physical modelling and complex analysis, looking into the types and extents of scour protection that would be required for the suction bucket foundation to be deployed in the North Sea. Testing was also undertaken to assess the likely impacts of scour protection around the cables required to transport power from offshore wind turbines to onshore transformer stations.

Harland and Wolff are manufacturing the suction buckets for the foundations, while GeoSea vessel Innovation is handling their installation. The 450MW wind farm, whose location is some 40 kilometres northwest of the island of Borkum, and which is co-owned by Orsted and Global Infrastructure Partners, is expected to be fully commissioned during 2019.