Published: 27 March 2023

27 March 2023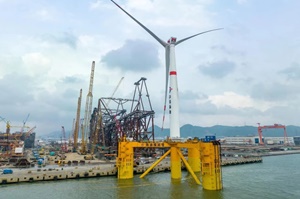 Mingyang Smart Energy has announced that its MySE 7.25-158 hybrid drive typhoon-proof turbine has been installed on China's first far-reaching floating wind power platform, the CNOOC's Guanlan.
The platform was towed from Zhuhai, Guangdong province, to the deep blue waters of Wenchang, Hainan province, a true venture into the deep sea with a water depth of 120 meters and a distance of 136 kilometers from shore. The turbine is capable of withstanding up to a level 17 typhoon with a maximum average wind speed of over 60 meters per second for 10 minutes. The whole system will be connected to the offshore oilfield group's power grid, providing sustainable energy for oil and gas production.