Published: 16 September 2022

16 September 2022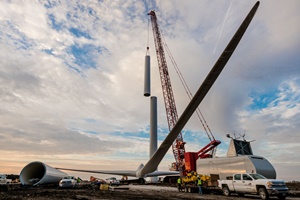 Mortenson has announced that the United States Patent and Trademark Office has issued the company a patent that covers their WindBuilder wind energy construction technology.
The generative design tool (US Patent No. 11441915) is used to optimise the Balance of Plant (BOP) design for wind energy projects. BOP designs include the road network to access wind turbines and other electricity generating units, the crane path to move crawler cranes for one turbine to the next during the construction phase, and the underground electrical collection system that connects all turbines to a central substation, often across hundreds of acres. The proprietary design tool was programmed in-house by team members at Mortenson.
Related Articles
The Energy Group of Mortenson Construction has announced the promotion of Elling C. Olson to director of business development. Elling joined Mortenson in August of 2007 as a business development man ...Windtech International - Windtech International is the worldwide information magazine for the wind energy industry. It provides the ideal forum for the promotion and explanation of new products, techniques and applications. This trusted and well-respected source of information is read regularly by an increasing readership

Mortenson Construction recently celebrated the completion of its 50th wind power project. In the last decade, Mortenson has constructed 34 percent of the wind energy capacity in the U.S. to date. H ...Windtech International - Windtech International is the worldwide information magazine for the wind energy industry. It provides the ideal forum for the promotion and explanation of new products, techniques and applications. This trusted and well-respected source of information is read regularly by an increasing readership