Published: 27 October 2017

27 October 2017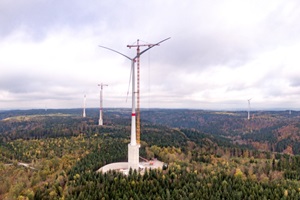 Max Bögl Wind has built the world's tallest wind turbine in the town of Gaildorf near Stuttgart, Germany. The turbine has a hub height of 178 meters and a total height of 246.5 meters. For the first time ever, power generation from renewable energy is combined with a pumped-storage power plant. This new storage concept utilises the foundation of the wind turbine as a water reservoir, which results in a 40 meter increase in the height of the turbine.
The wind turbine is part of a wind farm that consists of four wind turbines with hub heights ranging from 155 to 178 meters. Equipped with 3.4MW GE wind turbines, they will begin supplying clean energy to the German power grid in spring 2018. The foundations of the wind turbine towers are water reservoirs with a storage capacity of 70MWh. A penstock connects them with a hydroelectric power station and its lower reservoir located 200 meters deeper into the valley. The water battery can store surplus power from the grid and release it when necessary. It acts as a short-term storage facility and helps to maintain grid stability while guaranteeing a continuous, uninterrupted supply of power. The pumped-storage plant is able to switch between production and storage within 30 seconds.