Published: 07 April 2016

07 April 2016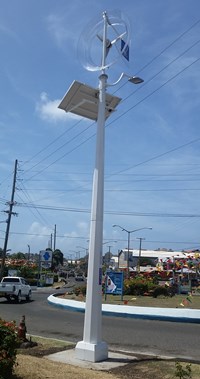 Irish company airsynergy's wind and solar powered off-grid Remote Power Unit (RPU) has become the very first renewable hybrid streetlight to be installed in the Caribbean island country of Grenada. The installation of the hybrid streetlight follows a collaborative pilot project between New York-based Aris Wind, the company licensed to sell airsynergy products in the US and the Caribbean, and local Caribbean operator Grenlec Utilities.
The streetlight is positioned at the highest traffic area on the island at an area known as the Sugar Mill Roundabout. The off grid RPU powers an 80-watt LED bulb with inbuilt battery storage lasting up to five days. In recent month's airsynergy's RPUs have been installed in a number of operating locations in New York and an additional 20 prominent sites have been confirmed for the RPU in New York, Chicago, California, Florida and New England. Further installations in the Caribbean and South America have also been confirmed for 2016.
Related Articles
Irish wind energy company, Airsynergy, has announced Cavan-based Obelisk Group as the exclusive Licensee of its sub-10kW turbine products throughout Ireland and the UK.   This deal will see Obelisk ha ...Windtech International - Windtech International is the worldwide information magazine for the wind energy industry. It provides the ideal forum for the promotion and explanation of new products, techniques and applications. This trusted and well-respected source of information is read regularly by an increasing readership

Airsynergy has announced the appointment of Ciaran O'Brien to its Board as a non-executive director.    O'Brien has more than 20 years of experience in resource development and fundraising in Ireland ...Windtech International - Windtech International is the worldwide information magazine for the wind energy industry. It provides the ideal forum for the promotion and explanation of new products, techniques and applications. This trusted and well-respected source of information is read regularly by an increasing readership

Airsynergy has announced that it has completed its latest funding round which values the company at €40 million.   The company has raised €2 million from existing and new investors in its fourth fundi ...Windtech International - Windtech International is the worldwide information magazine for the wind energy industry. It provides the ideal forum for the promotion and explanation of new products, techniques and applications. This trusted and well-respected source of information is read regularly by an increasing readership