Published: 30 July 2019

30 July 2019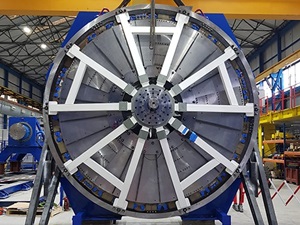 GreenSpur Renewables' ferrite-based Direct Drive Permanent Magnet Generator (DD-PMG) is now undergoing initial system testing at the Offshore Renewable Energy Catapult.
The generator – which is capable of producing reliable multi-MW electricity, with no requirement for rare-earth magnets – was delivered to the Offshore Renewable Energy Catapult (ORE Catapult) in early June. Initial testing began last week and showed close correlation between expected results and the generator performance so far. Further testing is ongoing with preliminary analysis and results set to be released at the start of Q4 this year. The current system tests are being carried out at the ORE Catapult's testing facilities in Blyth, Northumberland UK. The project is funded by Innovate UK in collaboration with the ORE Catapult.