Published: 13 October 2015

13 October 2015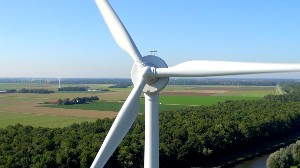 EWT has launched a new wind turbine: the new 900kW EWT DW61. The DIRECTWIND61 (DW61) builds on the technology of EWT's DW54 turbine.
The DW61 increases kWh output through a larger rotor diameter, which is the result of the latest aero dynamical blade design and control technologies. The DW61 is designed for wind class IEC IIIA conditions and retains the tip heights of 77 and 100 meters. The DW61 is focused on meeting the global requirement for localised generation, both on-grid and off-grid. The prototype DW61 has just been installed in Lelystad, The Netherlands and EWT expects first units to be deployed in the third quarter of 2016.
Related Articles
REpower UK has signed four new turbine contracts for onshore orders in the UK.The company's UK operation will be supplying turbines for new wind farms at Clashindarroch in Aberdeenshire, Scotland, Eye ...Windtech International - Windtech International is the worldwide information magazine for the wind energy industry. It provides the ideal forum for the promotion and explanation of new products, techniques and applications. This trusted and well-respected source of information is read regularly by an increasing readership

The Energy research Centre for the Netherlands (ECN) has completed a 12 month offshore measurement campaign with the ZephIR 300 system as part of a 4 year campaign within the Dutch project "Meteorolog ...Windtech International - Windtech International is the worldwide information magazine for the wind energy industry. It provides the ideal forum for the promotion and explanation of new products, techniques and applications. This trusted and well-respected source of information is read regularly by an increasing readership

Americas Wind Energy Corp. and Emergya Wind Technology Holdings (EWT) have entered into a letter of intent for EWT to acquire all issued and outstanding shares of Americas Wind Energy in a cash merger ...Windtech International - Windtech International is the worldwide information magazine for the wind energy industry. It provides the ideal forum for the promotion and explanation of new products, techniques and applications. This trusted and well-respected source of information is read regularly by an increasing readership