Published: 29 August 2013

29 August 2013
EWEA OFFSHORE 2013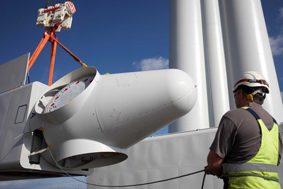 Wind turbines have been turning in Europe's seas since 1991, when the first were grid connected 2 kilometres off the coast of Denmark. That was 22 years ago. Today, 6,040MW of offshore wind turbines are providing power to Europe – spread across 58 wind farms in ten countries – in water depths of up to 50 metres.
By Sarah Azau , European Wind Energy Association, Belgium
But that's where it stops. Current offshore turbine and structure designs are not economically viable beyond 50 metres – but many areas of the Mediterranean and Atlantic basins are deeper than that, even relatively close to shore.
That means there is an awful lot of wind blowing over European seas and oceans which isn't being harnessed yet. But new designs are now being developed and tested which could open up deep waters to the wind energy industry.
What is 'Deep Offshore'?
The energy produced from turbines in waters over 50 metres deep in the North Sea alone could meet the EU's current entire electricity consumption four times over. That is one of the findings of EWEA's new report, 'Deep Water'.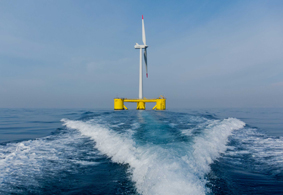 Not only would these turbines be able to supply vast amounts of free – and emissions free – electricity to Europe but they would also create an export opportunity for Europe, which already leads the world in offshore wind energy.
'The report found that, providing the right conditions are met, and the challenges overcome, the first deep offshore wind farms could be installed and grid connected by 2017. This would be a massive step forward for the industry,' say EWEA's Athanasia Arapogianni, one of the main authors.
However, the report also warns that this technology is at a very early stage of development and much more research is needed before the designs become commercially viable. 'As well as considerable research, an EU regulatory framework is needed with binding renewables targets for 2030,' points out EWEA's Anne-Bénédicte Genachte, the other main report author. 'There also needs to be a European industrial strategy to guide offshore wind development. But if these things are put in place and the industry moves into deeper waters, the potential is simply tremendous.'
Where Are We Now?
There are two full-scale grid connected offshore wind turbines on floating substructures: Hywind (developed by Statoil, with a 2.3MW Siemens turbine, installed in Norway's North Sea in 2009) and Windfloat (installed off the Portuguese Atlantic coast in 2011, developed by Principle Power and EDP, using a 2MW Vestas wind turbine).
In addition to the two full-scale deep offshore turbines at the end of 2012, there are three grid connected experimental floating substructures and around 35 deep water designs under development worldwide.
Of all of the 40 projects identified, either grid connected systems or under development, 27 (more than 60%) are located in Europe, in nine countries: Denmark, France, Germany, the Netherlands, Norway, Portugal, Spain, Sweden and the UK. Four (10%) are in the USA and nine (23%) in Japan.
How Much Will it Cost?
New technologies often need deep pockets, but EWEA's report states that deep water turbines will be competitive with fixed bottom turbines. 'The findings show that floating offshore wind designs are competitive in terms of Levelised Cost of Energy with existing jacket foundations from around 50m water depths,' says the 'Deep Water' report.
EWEA OFFSHORE 2013
Deep offshore designs will be the focus of two of the sessions in the 'future technologies' track at EWEA's upcoming offshore conference and exhibition. The sessions will look at the latest in deep offshore foundation concepts, including floating, concrete and hybrid solutions for deep waters.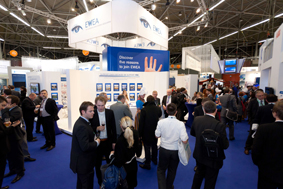 The event, which takes place in Frankfurt from 19 to 21 November, will discuss a range of other technological questions such as new installation vessel concepts, grid integration, operations and maintenance and resource assessment. The other conference session tracks will look at markets, the supply chain and finance. The last of these is particularly significant at the moment, as Amy Parsons, EWEA's Head of Conferences, explains: 'The importance of the financing issue – particularly right now in a time of crisis – was one of the reasons we chose to hold the event in the financing capital of the Eurozone, Frankfurt'.
The ongoing economic instability has hit all sectors hard, and this includes offshore wind energy projects which require high amounts of long-term financing over 15 to 20 years. Banks are having to pay more for those long-term loans so they are becoming much more reluctant to offer them. Instead, they are preferring shorter loans of up to ten years.
However, other financing solutions are opening up. Institutions like the European Investment Bank (EIB) or Germany's state-owned development bank, KFW, which have maintained lower borrowing costs than commercial banks, are stepping into the gap. Another even newer source of capital is pension funds, such as PensionDanmark, which has invested in Danish offshore wind energy. The offshore event in November will look at not only financing for offshore turbines but also the supply chain – such as vessels, ports and cables to name but
a few.
EWEA is planning to release new research on offshore wind financing at the event and its magazine Wind Directions will also be covering the results in its next issue in November.
Careers and Employment Focus
Another major issue in the offshore supply chain is the skills and careers gap – which relate to training and to identifying companies' recruitment needs. EWEA's offshore event will discuss in an introductory seminar some of the initiatives being undertaken across the EU to try to address this gap. EWEA is also partnering with Greenfish to highlight the results of their jobs barometer (which emphasises the most wanted jobs in the sector) and to deliver a matchmaking activity between companies and candidates.
On the Box
Many other activities are taking place alongside the conference sessions and careers discussions at OFFSHORE 2013. One such is a new project featuring a television crew who will be on site at the event, filming, interviewing and broadcasting. This project is designed to give both participants and non-attendees an insight into the latest news from key players via in-depth interviews and also an overview of what's happening at the event. Although it will be the first time at an EWEA OFFSHORE event, the television project was also used at the EWEA 2013 event in Vienna. Participants are welcome to get involved themselves and details of how to share your news can be found on the event website.
As usual, a vast exhibition will run alongside the conference in Frankfurt to enable participants to meet, find out about business opportunities, and sign deals. At the previous OFFSHORE event in 2011, there were more than 480 exhibitors and over 8,200 participants. There will also be a range of networking events such as the opening reception and the conference dinner in the historic Gesellschaftshaus Palmengarten building.
More info on the OFFSHORE 2013 event can be found at www.ewea.org/offshore2013.
EWEA's new report on deep offshore was based on the work of the 'Deep offshore and new foundation concepts' Task Force, which is part of EWEA's Offshore Wind Industry Group. The report can be downloaded from www.ewea.org