Articles
Published: 20 November 2009

20 November 2009
Brakes and Friction Linings for Wind Turbine Rotor and Yaw Applications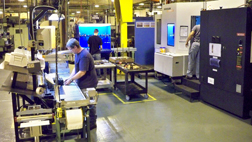 For over 50 years Carlisle Industrial Brake & Friction (CIBF) has produced a wide range of brake systems for the world's most recognised OEMs in the mining, agricultural, military, industrial and construction industries. Beginning in the 1950s, Carlisle developed off-highway brakes for the first mining trucks. Over the intervening decades, the company has expanded into new markets in new countries with innovative braking solutions. As the demand for wind energy has increased around the globe in the last few years, Carlisle has focused its attention on meeting the needs of the industry's biggest turbine manufacturers and operators. With global supply chains strained in 2007 and 2008, wind turbine manufacturers turned to Carlisle for assistance with brakes for both rotor and yaw applications; the calliper disc brakes and friction material used in these applications are the fundamental components in which Carlisle has many years of expertise.
By Colm Gallagher, Marketing Manager, and Phil Rhead, Business Development Manager (Wind Energy), Carlisle Industrial Brake & Friction, UK .

Want to read full articles? Sign up free of charge and login and read the full text of published articles on our website.