Published: 07 November 2018

07 November 2018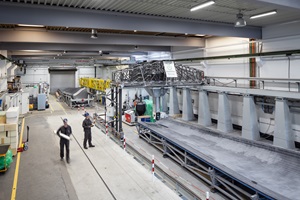 Danish DTU Wind Energy and German Fraunhofer Institute for Wind Energy Systems IWES have joined forces and national funded projects in the new € 17.6 million Reliablade project. For the project, researchers will develop a blade design for a 40 meter blade. This will serve as a blueprint for manufacturing two blades at Fraunhofer IWES and challenge them in experimental tests at the DTU in order to intentionally damage them under controlled conditions.
To cover a wide range of different damage modes, the two rotor blades for testing will encompass production errors such as inferior bond lines and damage in the composite or sandwich materials. The test blades will then be sent to the project partner DTU Wind Energy, where the behaviour of the damaged parts will be assessed in a Full scale blade tests. The German and Danish project partners also plan on conducting subcomponent tests and developing fatigue models as well as damage prediction methods.
The German part of the project is financed by the German Federal Ministry for Economic Affairs and Energy (BMWi) to the tune of €6.5 million. The partners in the German project are Fraunhofer IWES and Leibniz University Hanover.
The Danish part of the project has a total budget of €11.1 million and is supported by Energy Technology Development and Demonstration Program (EUDP) with €5.9 million. The partners in the Danish project are DTU Wind energy, Vestas Wind Systems A/S, LM Wind Power A/S, IBM Denmark ApS, FORCE Technology, Siemens Industry Software NV (SISW), CEKO Sensors ApS, Dantec Dynamics GmbH, Blade Test Centre A/S (BLAEST), Zebicon A/S, Olsen Wings A/S and DTU Compute.