Published: 11 May 2016

11 May 2016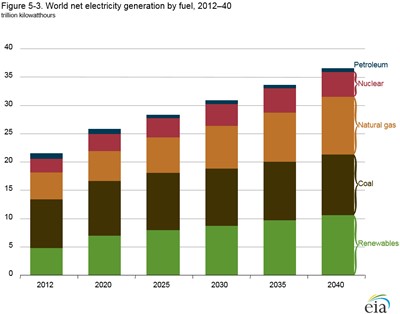 World energy consumption is projected to increase by 48% over the next three decades, led by strong increases in the developing world, especially in Asia, according to International Energy Outlook 2016 (IEO2016), released by the U.S. Energy Information Administration (EIA). IEO2016 presents updated projections for world energy markets through 2040.
IEO2016 projects renewables as the world's fastest-growing energy source, increasing by 2.6% per year through 2040, but fossil fuels still supply more than three-quarters of world energy use. By 2040, coal, natural gas, and renewable energy sources provide roughly equal shares (28%-29%) of world electricity generation, a significant change from 2012, when coal provided 40% of all power generation. Hydropower and wind are the two largest contributors to the increase in world electricity generation from renewable energy sources, together accounting for two-thirds of the total increase from 2012 to 2040. Hydropower and wind generation each increase by about 1.9 trillion kilowatt-hours (kWh) in the IEO2016 Reference case.
Related Articles
Turkish energy regulator EPDK has decided to hold a wind energy auction for 2GW ahead of schedule, moving the date up to October 2016.

Acciona Windpower has created 400 jobs in its concrete tower production plant for wind turbines located in Areia Branca (Brazil).

The four Norwegian energy companies Statkraft, NTE, Agder Energi, and TrønderEnergi have signed a letter of intent to establish a joint venture to develop and operate Storheia, Kvenndalsfjellet and Ro ...Windtech International - Windtech International is the worldwide information magazine for the wind energy industry. It provides the ideal forum for the promotion and explanation of new products, techniques and applications. This trusted and well-respected source of information is read regularly by an increasing readership

Voltalia and AWP have signed a contract for the supply of turbines with a capacity of 210MW for two wind farms in the Brazilian state of Rio Grande do Norte.

The American Wind Energy Association (AWEA) and the Solar Energy Industries Association (SEIA) has released a white paper titled Green Power Superhighways: Building a Path to America's Clean Energy F ...Windtech International - Windtech International is the worldwide information magazine for the wind energy industry. It provides the ideal forum for the promotion and explanation of new products, techniques and applications. This trusted and well-respected source of information is read regularly by an increasing readership

NRG Systems, Inc. announced its XHD NOW System featuring the new 50- or 60-meter XHD TallTower. The XHD TallTower is the foundation of the NRG NOW System. The XHD is their next generation tower bas ...Windtech International - Windtech International is the worldwide information magazine for the wind energy industry. It provides the ideal forum for the promotion and explanation of new products, techniques and applications. This trusted and well-respected source of information is read regularly by an increasing readership