Published: 23 July 2020

23 July 2020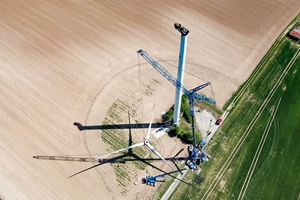 The German wind energy industry is facing a dismantling wave as of 2021. Approximately 30,000 wind turbines are currently rotating on meadows and fields throughout Germany and every second one of them will approach the end of their lifetime in the coming ten years, because they have either come to the end of their service life or continued operation no longer pays off.
Already at the turn of the year 2020/ 2021, more than 5,200 wind turbines will reach the end of their 20-year feed-in tariff support under the Renewable Energy Sources Act (EEG), a further 8,000 turbines are due to follow by the end of 2025. Some of these wind turbines have already been replaced prematurely as part of a repowering, others will continue to be operated beyond the end of their support period.
A standard for dismantling and recycling of wind turbines presently exists neither in Germany nor in Europe. This changed on July 17, 2020, when the German Institute for Standardization (DIN) published the DIN SPEC 4866. "Sustainable Dismantling, Disassembly, Recycling and Recovery of Wind Turbines" is the title of the 26-page document. It stipulates framework conditions for the entire dismantling process from planning via the actual dismantling through to documentation and provides, among other things, a first assistance to the operators.
The document was drawn up by a consortium of 25 experts from the wind energy and recycling industry, scientists as well as officials of authorities, such as the Federal Environment Agency. The DIN SPEC 4866 was created thanks to the initiative of RDR Wind - Industrial Association for Repowering, Dismantling and Recycling of Wind Turbines. It was founded in Hanover in late 2018 with the aim of establishing first-time industry standards as best practice for dismantling.