Published: 03 May 2019

03 May 2019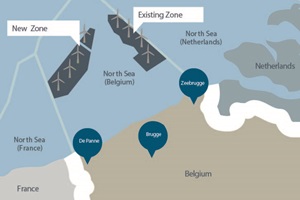 The Belgian Parliament has adopted a law introducing a competitive bidding procedure to award domain concessions for new offshore wind farms. In addition to setting out a general framework for the competitive bidding procedure, the law aims to further reduce subsidies granted to offshore wind electricity production while recognising that new wind farms are essential to achieving Belgium's renewable energy targets under its EU and international commitments.
The law aims to establish general principles for the competitive bidding procedure for awarding domain concessions to future projects of offshore electricity production. The installations will be located in a new zone in the North Sea, close to the French border.
Under the law, producers of electricity will be chosen on the basis of a competitive bidding procedure that has to ensure transparency, effective competition and equal treatment of all candidates. However, the government will choose the type of tender and implement the law. The preparatory discussion considers three non-exhaustive options:
Option A: the government can organise a tender with subsidy or a "zero bid" tender
Option B: the government can set-up a competitive bidding procedure with a fixed price for which the candidate will operate the installations
Option C: the government can organise an auction by which the selected candidate does not receive a subsidy but will have to pay the public authority in order to build and operate the installations.
Belgium has set the goal to development at least 1.75GW of additional offshore wind energy. The objective is to organise the tenders by 2022, so that the new installations can become operational by 2025.