Published: 17 January 2018

17 January 2018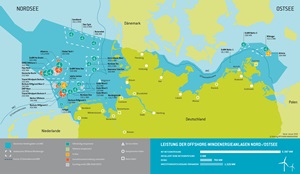 According to an analysis of Deutsche WindGuard, a total of 1,169 wind turbines with an installed capacity of 5,387MW were connected to the grid on 31 December 2017. Following the figures from AG Energiebilanzen, offshore wind turbines increased their power generation to 18.3 terawatt hours in 2017. That is almost 50 per cent more than in 2016 (12.3 terawatt hours).
Two offshore wind farms with a capacity of 780MW are currently under construction. For another five projects with a capacity of 1.5GW, the final investment plan is now available. Until 2020, the legal extension of offshore wind energy up to a capacity of 7.7GW is possible.
However, the reduction of the expansion path for wind energy at sea, as envisaged in the German renewables regulation (EEG) in 2017, particularly at the start of the 2020s, is slowing down this positive development of the offshore wind industry in Germany. Therefore, Cuxhavener Appell, initiated by Germany´s coastal states, trade unions and the offshore wind industry back in September 2017, called for an expansion of the offshore wind target to at least 20 GW by 2030 and 30GW by 2035. Only higher expansion volumes in Germany and throughout the whole of Europe will ensure further and permanent cost reductions, as well as innovations in technological development.
Around 20,000 people are currently employed in the German offshore wind industry, at an annual turnover of approximately two billion Euro. Germany accounts for roughly 40 percent of all offshore wind industry employees across Europe.