Published: 15 August 2016

15 August 2016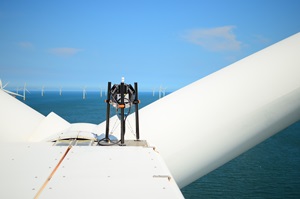 The Offshore Renewable Energy (ORE) Catapult, in collaboration with Centrica, has delivered the first in-field measurement campaign under its blade leading edge programme (BLEEP), and concluded that an uplift in annual energy production (AEP) of between 1.5 to 2% is possible following the repair of moderate blade erosion.
The measurement campaign, carried out on behalf of ORE Catapult by the Measurement Services Department at RES, in collaboration with Centrica and focussed on an offshore windfarm, used LiDAR technology to accurately measure the power performance impact of blade leading edge erosion by assessing performance before and after blade repairs were carried out. The results will allow owner/operators to optimise their repair and maintenance strategies, balancing cost versus benefit in order to minimise levelised cost of energy impact and maximise revenue. The resultant method will now be used to carry out a further two measurement campaigns as part of the wider collaborative industry programme of works, to validate the results and the methodology used.