Published: 02 July 2009

02 July 2009
Characterising Wind Speed and Directional Shear with sodar Data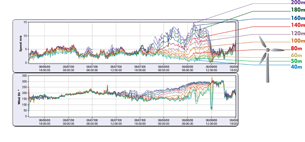 Remote sensing technology, such as Sonic Detection and Ranging (sodar), has made it practical to obtain accurate measurements of wind speed and direction at several heights across the swept area of a typical wind turbine rotor. However, obtaining a large number of values for wind speed and directional shear over an entire measurement campaign can result in an unwieldy amount of data and make it difficult to draw conclusions. This article describes a simple technique for plotting the frequency of shear occurrence in order to highlight site-to-site differences that would affect wind turbine performance and reliability.
By Niels LaWhite, Chief Scientist, Elizabeth Walls, Research Scientist and Kenneth Cohn, Founding Partner, Second Wind Inc., USA .

Want to read full articles? Sign up free of charge and login and read the full text of published articles on our website.