Published: 02 July 2009

02 July 2009
Six Sigma Quality Methodology Utilised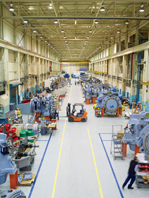 Clipper Windpower installed its first production 'Liberty' turbines in mid-2007 and since that time hundreds of turbines have been assembled at project sites around the USA. However, a couple of 'teething troubles' cropped up with the blades, which are manufactured at Clipper's Brazilian supplier. In 2007 Clipper identified a blade spar deficiency that required dozens of field reinforcements to assure a 20-year blade life. After small cracks appeared in the surface skin of several blades in 2008 the company engaged upon a scientific process to identify the root cause and fix hundreds of blades in the field. The procedure included an intricate curing process necessary to enable the fixes to take place in temperatures well below zero.
By Drew Robb, Robb Editorial, USA .

Want to read full articles? Sign up free of charge and login and read the full text of published articles on our website.