Published: 06 June 2009

06 June 2009
Modelling of the Utsira Wind/Hydrogen Demonstration System in Norway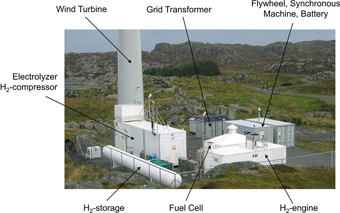 A wind / hydrogen demonstration project located at the island of Utsira, about 20km off the west coast of Haugesund in Norway, was officially launched by StatoilHydro and Enercon in July 2004. The main objective of this study, part of a joint venture between SgurrEnergy, the University of Strathclyde and the Institute for Energy Technology in Norway, was to evaluate the technical concept being demonstrated, both with respect to system design and operation. The method chosen was to use actual operational data to validate a set of wind/hydrogen-energy system modelling tools using HYDROGEMS and TRNSYS. This article describes how calibrated system models were used in system simulations to identify improved system designs and control regimes. The article also presents the results of the simulations performed to optimise the design of the plant in order to guarantee a 100% stand-alone operation.
By Arnaud Eté, SgurrEnergy, UK .

Want to read full articles? Sign up free of charge and login and read the full text of published articles on our website.