Published: 22 January 2015

22 January 2015
Cold Climate Issues for Wind Turbine Machinery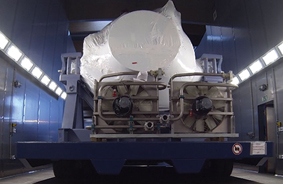 Wind turbines are installed worldwide, and therefore these systems need to operate in different climates and environmental conditions, from arctic cold to blistering desert heat. And, they need to work in these extreme conditions for 15 to 20 years without having major breakdowns. Design engineers need to take such climates into account in order to have a reliable and efficient product in all conditions. Currently, wind turbines are more frequently installed in so-called 'cold climate' or 'low temperature climate' locations where temperatures below -20°C are not that uncommon. Standard turbines are designed to operate in -10°C temperatures, and survive in -20°C conditions. However, recent weather data from places such as Inner Mongolia and Canada indicates that even -45°C and -50°C can occur in some locations. This article discusses the problems such extreme temperatures can cause and how climatic chamber testing can help designers produce turbines suitable for the conditions.
By Pieter Jan Jordaens, Business Development & Innovation manager, OWI-Lab, Belgium
Want to read full articles? Sign up free of charge and login and read the full text of published articles on our website.