Published: 22 January 2015

22 January 2015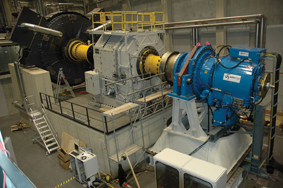 The Need for and Advantages of Advanced Ground Testing
This article seeks to demonstrate the comprehensive capabilities and benefits of wind turbine generator (WTG) system test benches that are integrated into a multi-physical hardware in the loop (HIL) environment. In 2012 and 2013 the Center for Wind Power Drives successfully proved the use of HIL for advanced ground testing with a test campaign on a 1MW test bench demonstrator. In addition, a new 4MW WTG system test bench was brought into operation in late 2014. With regard to type certification tests, ground testing has the potential to be a substitute for field prototype testing as a faster, more cost efficient and flexible alternative. Beyond this, ground testing can be used for validating new WTG designs and improving reliability. The HIL operating mode makes it possible to simulate the working environment of a WTG and to consider the influence of the WTG controller strategy on the mechanical and electrical loads of the drive-train.
By Dipl.-Ing. Stefan Franzen, Dipl.-Ing. Dennis Bosse, Dipl.-Ing. Dominik Radner, Prof. Dr.-Ing. Georg Jacobs and Dr.-Ing. Ralf Schelenz, Center for Wind Power Drives, RWTH Aachen University, Germany
Want to read full articles? Sign up free of charge and login and read the full text of published articles on our website.