Published: 04 October 2010

04 October 2010
An Alternative to Rotary Wind Systems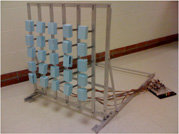 'Vibro-wind' denotes the harvesting of energy from the wind as it flows around vibrating structures and is an emerging alternative to conventional rotary wind turbines. The basic science involves wind-induced vibration due to the non-linear fluid flow and vortices around flexible bodies and structures. Two key problems in this technology are: (1) how to convert wind energy into vibratory mechanical energy and (2) how to maximise mechanical energy conversion into electrical energy and storage from the vibration of a large array of hundreds of oscillators. A target application is for architectural facades in buildings, similar to, and as a complement to, solar energy panels.
By Francis C. Moon, Sibley School of Mechanical and Aerospace Engineering, Cornell University, USA

Want to read full articles? Sign up free of charge and login and read the full text of published articles on our website.