Published: 04 October 2010

04 October 2010
Strategies to Keep Them Turning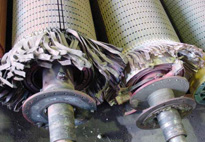 The SCADA alarm flashes red as the blades slowly come to a stop. The site manager gets a call – what now? A generator is failing. Again. Sadly, this scenario plays out somewhere in North America every day of the year. Why is this happening and what can be done? Generators stop working for several reasons and, of course, it might be an unforeseen design flaw, but most failures are both predictable and preventable. With proper cause analysis combined with good planning and execution of maintenance procedures, the failure rates could be cut by almost 50%. In addition, serial defects due to non-optimised designs or poor installation can be managed and solved efficiently once discovered.
By Kevin Alewine, Director of Renewable Energy Services, Shermco Industries, USA

Want to read full articles? Sign up free of charge and login and read the full text of published articles on our website.