Published: 21 January 2013

21 January 2013
IRWES: New Thinking about Wind Energy in the Urban Environment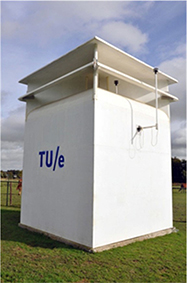 The Integrated Roof Wind Energy System (IRWES) is a novel wind energy solution invented to overcome the limitations of many of today's available renewable energy technologies and make 'clean' energy a reality for our cities and our planet. This revolutionary, integrated energy system is created by using an axial array of skewed, shaped funnels, which exploit the Venturi Effect to accelerate the wind flow towards an enclosed turbine. This inventive use of shape and geometry results in an air inlet that causes the airflow to converge, and creates a flow of air with high mass and velocity, which is funnelled towards the vertical axis wind turbine in the centre-top of the roof. This high-energy air has the potential to generate a lot of power.
By Dr Rossella M. Ferraro, Dr Alexander B. Suma and Dr Faas Moonen, Technische Universiteit Eindhoven, The Netherlands
Want to read full articles? Sign up free of charge and login and read the full text of published articles on our website.