Published: 29 April 2019

29 April 2019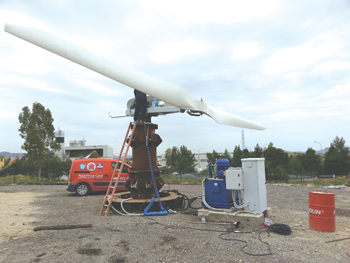 A Telescopic Wind Tower With Reduced Environmental Impact
A prototype of a telescopic pole for wind energy production with low environmental impact and its lifting system for a 60–250kW turbine and a height of 30 metres have been designed and manufactured. A telescopic tower, which is raised and lowered by automation or by remote control, allows differentiation of the presence of the generator within the landscape over time. The research target is the optimal design of the telescopic coupling, the maintenance of the preload, the rotational decoupling, the pairs of sleeves, the pegs and the bushes of the jack-up lifting system. All the components of the wind tower have been preliminarily analysed through finite element method stress computational analysis. The prototype was installed in Caltanissetta, Italy, and successfully tested.
By A. Pantano, T. Tucciarelli, N. Montinaro, A. Mancino, M. Sinagra, Università degli Studi di Palermo, Italy
Want to read full articles? Sign up free of charge and login and read the full text of published articles on our website.