Published: 05 July 2012

05 July 2012
How to Build Tomorrow's 12MW Turbine with Components Available Today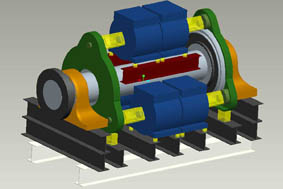 The 5 to 7MW range turbine is the upper end of what you can achieve by enlarging megawatt-scale architecture, but it is an awkward size range. The weights are high, the installation equipment is not commonly available and the cost of energy is not on a par with 1 to 3MW onshore installations. The question is how can we upscale beyond this awkward limit, and bring costs back down? The Nextwind Gaia architecture overcomes the barriers to upsizing existing wind turbine technologies, and aims to make possible large-scale offshore wind plants which will beat the initial cost, and cost of energy, of land-based wind farms.
By Rain Byars and William Miller, Nextwind, USA
Want to read full articles? Sign up free of charge and login and read the full text of published articles on our website.