Published: 13 February 2023

13 February 2023
Climbing Robot Performs Leading-Edge Blade Repair in the Field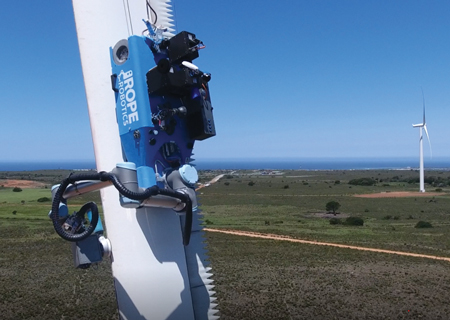 Leading-edge blade damage can compromise the aerodynamic performance of a wind turbine by up to 3%. A significant problem today, blade damage caused by rain erosion, occurring when the blade hits rain droplets at tip speeds reaching 380km/h, will only become more problematic with the ever-increasing blade lengths of modern turbines. Repairs are complex to perform, requiring not only skilled manual work hundreds of metres above the ground but also specialist tools, polymer coatings, substrate materials and application skills. Blade failure, with the consequence of long turbine downtime, can be the result if the blade is not maintained.
By Martin Huus Bjerge, CEO, Rope Robotics, Denmark
Want to read full articles? Sign up free of charge and login and read the full text of published articles on our website.