Published: 25 January 2012

25 January 2012
The Netherlands' Contribution to Offshore Wind Energy Knowledge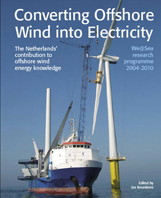 In the past five years many aspects of harvesting wind energy from the North Sea have been studied within the framework of the research programme We@Sea. We@Sea was a Dutch government-sponsored programme that ran between 2004 and 2010 and was carried out by a consortium consisting of representatives of all the sectors which are involved in realising large-scale offshore wind energy projects in the North Sea. The sectors included manufacturers of wind turbine systems, research establishments specialised in both technology and marine ecology, electricity companies, technical consultants, NGOs, financial institutions and, last but not least, offshore contractors and operators.
By Jos Beurskens (ECN), The Netherlands

Want to read full articles? Sign up free of charge and login and read the full text of published articles on our website.