Category: Articles

Articles

Published: 27 February 2018

27 February 2018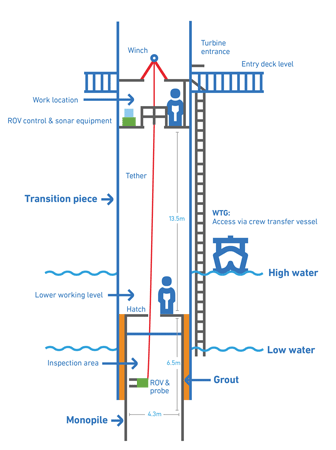 Using Interfering Sound Waves for Monopile Investigation
Offshore wind farm operators face a challenge when trying to establish the integrity of the monopile-transition piece interface which has been used in 80% of turbines constructed before 2012. A key focus is the layer of grout which bonds the two steel sections of the structure, the integrity of which could affect the turbine's long-term stability. Uniper Technologies, working with a team from the British Geological Survey, has developed a system, the first of its kind, which uses interfering sound waves to investigate the monopile-transition piece underwater and highlight any areas of defective or missing grout. The system, which has been successfully trialled at sea, was a winner of the recent Subsea Inspection competition organised by the Carbon Trust's Offshore Wind Accelerator. Importantly the technique can inspect the structure from a single surface and within the tight timescales required for offshore procedures. Inspection data is interpreted and shared in a transparent format.
By Dr Colin Brett, Head of Inspection, Uniper Technologies, UK
Want to read full articles? Sign up free of charge and login and read the full text of published articles on our website.