Published: 11 November 2019

11 November 2019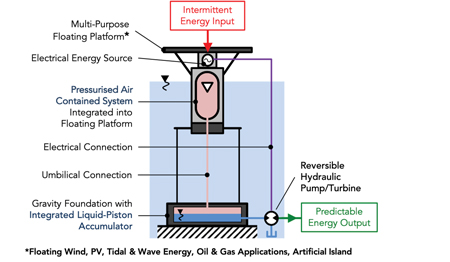 A Sustainable Solution for Offshore Wind
Energy storage technologies will be crucial in overcoming one of the most challenging barriers to high renewable energy penetration, i.e. the mismatch between renewable energy supply and consumer demand. Ongoing work is focused on the development of a hydropneumatic energy storage technology, tailored for offshore applications, referred to as FLASC. Whether connecting offshore renewables to onshore grids or to energy-intensive oil and gas infrastructure, the technology is designed to act as an energy buffer, eliminating intermittency and delivering a schedulable energy output. The technology itself combines pressurised seawater and compressed air in a liquid piston embodiment. It avoids hazardous chemicals and is designed for a long lifetime (+25 years), independent of the charging/discharging regime. A small-scale prototype was deployed in the Grand Harbour of the central Mediterranean island of Malta. Having completed over 300 charging cycles, the prototype is the ultimate proof of concept of the technology and sets the foundation for future development leading to commercial applications.
By Daniel Buhagiar, Co-Founder FLASC and Postdoctoral Researcher, University of Malta
Want to read full articles? Sign up free of charge and login and read the full text of published articles on our website.