Published: 15 April 2009

15 April 2009
A Case Study of the Houston Discovery Tower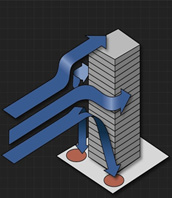 The designers of tall buildings are showing an increasing interest in reducing the environmental impact of the construction and operation of their buildings. One of the approaches that is being used, and investigated more frequently, is the incorporation of on-site power generation, primarily by including solar and wind devices in the design of the building. One such example is the Discovery Tower, which is currently under construction in Houston, Texas. This article examines considerations for introducing wind power generation on tall buildings and how they can be specifically applied to the Discovery Tower.
By Brad C. Cochran, Sr Associate and Rick R. Damiani, Sr Engineer, CPP Wind Engineering, USA .

Want to read full articles? Sign up free of charge and login and read the full text of published articles on our website.