Articles
Published: 27 February 2018

27 February 2018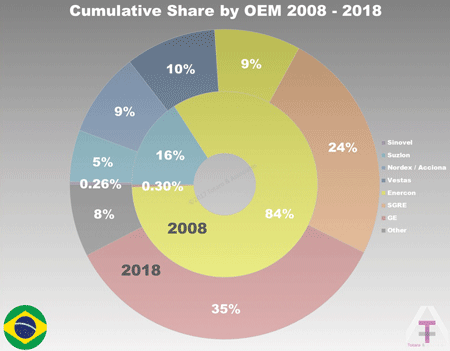 Towards the end of 2017 the news regarding Enercon making an acquisition of fellow direct drive turbine OEM Lagerwey indicated a wind energy market that is still in the process of consolidating. The outcome of this deal will have specific benefits for Enercon as they position themselves for the next 10 years and attempt to regrow their market share and assert their global presence.
By Philip Totaro, CEO, IntelStor
Markets have been shifting away from subsidies and towards competitive tenders / auction schemes in the past few years. This switch favours scalable wind turbine technology and a modular platform architecture.
Even though Enercon has recently introduced a 3MW platform with a more modular architecture, their legacy platform architecture based on wound synchronous technology will not scale as cost-effectively as PMG's does. Previous analysis using MKT Prism exclusively from IntelStor indicates a 10–23% capex cost variance between direct drive (DD) and three-stage doubly-fed induction generator based (DFIG) turbines.
In markets where auctions are now routinely resulting in marginal or sometimes zero subsidies, Enercon's profit margins are likely to get squeezed by trying to outbid competitors using turbines based on the wound synchronous architecture.
In the past, Enercon has explored the possibility to switch over their turbine architecture from wound synchronous to PMG, but with diminishing global sales volumes the investment does not result in a positive payback regardless of time frame.
As global markets evolve, Enercon has been slowly pushed down in market share in markets where they were the first mover, as evidenced by a comparison of market share in Brazil from 2008 versus expected market share by the end of 2018.
What the Lagerwey acquisition allows Enercon to do is leverage the technology platform and eventually transition all new turbine designs to PMG. In the short term, we expect Enercon to use the Lagerwey technology platform to enter new markets or re-enter markets where they have been all but shut out due to competitive tenders/auctions. This near-term strategy is likely to include an initiative to roll out Lagerwey turbines in the US market.
Longer term, we expect to see the introduction of a co-developed, but Enercon branded, turbine with Lagerwey PMG technology inside. We believe this architecture will eventually supplant much of the wound synchronous technology fleet, while still maintaining the rest of the distinctive Enercon nacelle, hub and blended blade root for aerodynamic performance and aesthetics.
Lagerwey's portfolio of technology and patents is fairly modest with the only recent innovations around the tower climbing crane, but it does help Enercon maintain their foothold in the top ten intellectual property (IP) asset holders in the wind energy sector.
However, with this transition, Enercon is now exposed to the IP infringement risks associated with PMG DD architecture, which they avoided in the past thanks to their use of wound synchronous technology being relatively unique in the industry. As a result, pursuit of markets where there is significant IP on PMG DD technology, such as in the USA, introduces a commercial risk exposure significantly higher for the PMG DD technology architecture than the wound synchronous.
Some of the commercial benefit of the PMG DD versus wound synchronous technology could be lost if IP licences on the PMG DD architecture were to be necessary from Enercon competitors. IP infringement risk analysis by IP Prism exclusively from IntelStor reveals that the relative difference in patent infringement liability for an Enercon turbine with wound synchronous technology versus a Lagerwey turbine with PMG DD is approximately US$ 60 million for every 1,000 units installed in a market like the USA.
Overall, this strategic move to take advantage of the transition towards PMG DD technology is an important one for Enercon. However, as the majority of Enercon competitors have already developed a wide portfolio of cost-effective turbines which are already being sold and installed around the world, we just hope it is not too little too late.