Windtech Future
Published: 24 January 2017

24 January 2017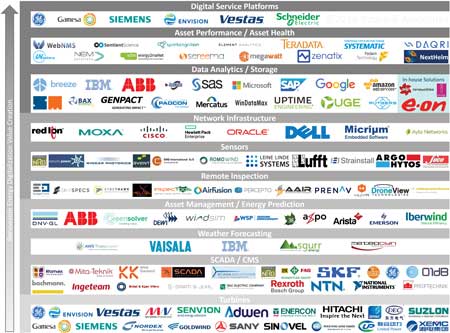 The renewable energy (RE) sector might actually have something to learn from Hollywood studios or the likes of Apple and Google. As many renewable energy OEMs develop platforms where they hope to offer services that can be delivered digitally, aspects such as content licensing, digital asset ownership and digital distribution rights all need to be considered.
By Philip Totaro, Founder & CEO, IntelStor
However, the digital services sector within the renewable energy space is still relatively immature. Therefore, there is a rather significant need for companies who hope to be competitive in this space to understand where everyone is situated and how the capabilities offered mesh with their current and future business models.

First movers in the digital services sector have thus far offered a fixed price per megawatt (MW) or per megawatt-hour (MWh) for their services. This method certainly proves to be easier to benchmark for an asset owner since a new levelised cost of energy (LCOE) and present value can be calculated based on the type of digital service offered.

However, as the business models evolve in this digital services area, there are several scenarios in which base or bonus compensation could be offered by as asset owner for a company which is using a digital services platform to deliver asset performance optimisation or asset health upgrades. These include:pay for increased energy output;
pay to determine the best time to produce power based on weather forecasting, and uprate corresponding assets during optimal windows;
pay to store energy for a more price-optimal time rather than simply produce and deliver electricity to the grid;
pay for asset life extension;
pay for prevention of unscheduled maintenance;
pay for asset control scenarios which provide component life extension that reaches a scheduled maintenance window.
The current services contracts are likely to require a significant overhaul as renewable energy service providers seek to include these new capabilities, which all have a cost that can be normalised per megawatt or MWh, but most of which also provide a cost avoidance that is less easily quantifiable.

The ownership of data has also been identified as a key issue in renewable energy digital services. This will be particularly true for digital service platform owners who allow third party service capabilities to be offered via their platform. Content libraries which warehouse historical asset performance information as well as predictive modelling information on asset health or performance will become highly valued as OEMs, independent service providers (ISPs), asset owners/operators and even utilities seek insights on how their portfolio is performing and how it could be improved.

Taking cues from existing sectors such as entertainment or non-RE digital service providers, it is likely that an equivalent to the digital rights management (DRM) methods widely used in these sectors will become more relevant for the renewable energy sector.

This emerging trend also signals the opportunity for ISPs to sign digital content access agreements with the digital platform service providers (mainly the OEMs at this stage) to ensure they will be provided with the information they might need in order to deliver their distinctly non-digital services. These content reuse rights are similar to a brand asset management agreement offering standardised terms for licensed content at a fixed price.

A fundamental change in the pricing and performance of digital services will be influenced heavily by the pace of adoption of digital services. Companies will need to be proactive in order to remain competitive.