Published: 31 January 2022

31 January 2022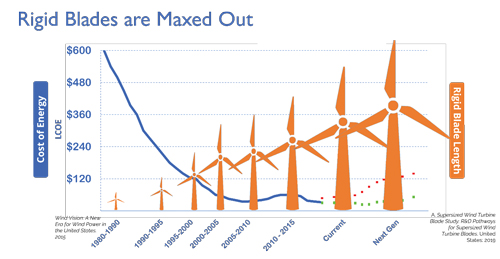 Enabling Larger Blades by Alleviating Ultimate and Fatigue Loads
To increase energy production, wind turbine and blade manufacturers have deployed progressively longer blades for the last 40 years. Blades have grown from, in the 1980s, ones that easily fit in the average suburban driveway, to today's blades, which are longer than a football field. The impetus behind this growth is increasing energy production while reducing cost. An important metric that OEMs use to compare technological impact and make decisions is the levelised cost of energy (LCOE), an economic assessment of the cost of the energy generating system including all the costs over its lifetime. In other words, LCOE is the minimum price at which energy must be sold for an energy project to break even. Until now, the longer blades have proven successful in lowering LCOE, but diminishing returns indicate a new method is necessary.
By Claudia Maldonado, John Hall, Edward Tierney and James Roetzer, Atrevida Science, USA
Want to read full articles? Sign up free of charge and login and read the full text of published articles on our website.