Published: 09 January 2019

09 January 2019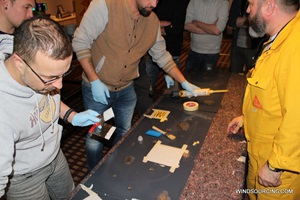 Following the successful start in February 2018, a free product training course this year in Rostock provides an insight into the possible applications on wind turbines and technical information of the product SikaCor SW-1000 RepaCor. The event will again be organised by Windsourcing.com together with Sika Deutschland, on February 12, 2019 (German-speaking) and February 13, 2019 (English-speaking) in Rostock.
The four- to five-hour event is aimed at all service companies involved in the maintenance and repair of wind turbines. It consists of a theoretical part and practical exercises. The solvent-free two-component coating material is the result of the three-year research project RepaKorr. The Fraunhofer Institute for Manufacturing and Advanced Materials (IFAM) was also involved in the project subsidised by the German Federal Ministry of Education and Research. Within the project Sika Germany was responsible for defining the material requirements and launched SikaCor RepaCor SW 1000 in 2017. Windsourcing.com has been a trading partner of Sika Deutschland since 2015 and as such is the exclusive supply partner for the product in the European aftersales service market of the wind industry.
Related Articles
Vestas has received a firm and unconditional order for 31 V112-3.0MW wind turbines for South Africa from Cennergi, a joint venture between Exxaro and Tata Energy, for the Tsitsikamma community wind fa ...Windtech International - Windtech International is the worldwide information magazine for the wind energy industry. It provides the ideal forum for the promotion and explanation of new products, techniques and applications. This trusted and well-respected source of information is read regularly by an increasing readership