Published: 16 April 2021

16 April 2021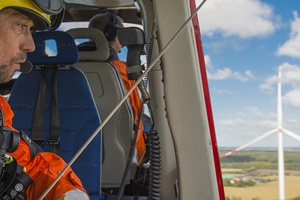 RenewableUK has evolved its wind and aviation event into a webinar series this year supported by partners AIFCL, OWIC, Thales and Vattenfall.
It is bringing together key aviation stakeholders, project developers, government, national/regional business clusters, health and safety experts, and professional associations, as well as radar, drone and UAS manufacturers and operators. A range of topics will be covered between April and September 2021, including:
The Wind & Aviation 2021 webinar series is free to everyone, starting this April.
Related Articles
Chris Beaufait has been appointed new Group Senior Vice President of Vestas and President of Vestas Asia Pacific & China.   Chris, who comes from a position as President and General Manager of GE Avia ...Windtech International - Windtech International is the worldwide information magazine for the wind energy industry. It provides the ideal forum for the promotion and explanation of new products, techniques and applications. This trusted and well-respected source of information is read regularly by an increasing readership

Aviation consultants Helios have published the results of an independent analysis of Aveillant's 3D Holographic Radar. The results follow extensive trials of Aveillant's 3D Holographic Radar at Glasgo ...Windtech International - Windtech International is the worldwide information magazine for the wind energy industry. It provides the ideal forum for the promotion and explanation of new products, techniques and applications. This trusted and well-respected source of information is read regularly by an increasing readership

Aveillant has added four new staff to its management team. The four new appointments are John Allan, Commercial Director, Tim Quilter, Engineering Director, Rob Abbott, Head of Service Design and Bob ...Windtech International - Windtech International is the worldwide information magazine for the wind energy industry. It provides the ideal forum for the promotion and explanation of new products, techniques and applications. This trusted and well-respected source of information is read regularly by an increasing readership

SgurrEnergy has developed new health and safety guidelines for the offshore wind and marine energy industry on behalf of RenewableUK.   The new Offshore Wind and Marine Energy Health and Safety Guidel ...Windtech International - Windtech International is the worldwide information magazine for the wind energy industry. It provides the ideal forum for the promotion and explanation of new products, techniques and applications. This trusted and well-respected source of information is read regularly by an increasing readership

Aveillant, whose 3D Holographic Radar prevents wind turbines from interfering with airport radar – has secured up to GBP 6.75 million in new funding. The investment will enable Aveillant to manufact ...Windtech International - Windtech International is the worldwide information magazine for the wind energy industry. It provides the ideal forum for the promotion and explanation of new products, techniques and applications. This trusted and well-respected source of information is read regularly by an increasing readership

A Solution for Radar InterferenceIn the past year, the pages of Windtech International have been filled with excellent strategies to counter NIMBYism and the vested interests that sometimes lie behind ...Windtech International - Windtech International is the worldwide information magazine for the wind energy industry. It provides the ideal forum for the promotion and explanation of new products, techniques and applications. This trusted and well-respected source of information is read regularly by an increasing readership

The Federal Aviation Administration (FAA) has issued a "Does Not Exceed (DNE)" determination for the proposed construction of 130 wind turbines in Nantucket Sound. The FAA completed an aeronautical ...Windtech International - Windtech International is the worldwide information magazine for the wind energy industry. It provides the ideal forum for the promotion and explanation of new products, techniques and applications. This trusted and well-respected source of information is read regularly by an increasing readership