Published: 14 May 2021

14 May 2021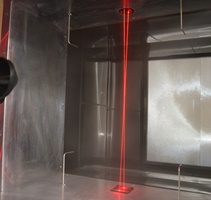 The UK wind tunnel facility at the UKAS laboratory of Young Calibration has its' ISO 17025 accreditation schedule upgraded for the calibration of Ultrasonic and Rotating Cup Anemometers.
These anemometers are often utilised in windfarm feasibility studies to determine the wind power density estimates and to improve the energy production predictions of future wind farms. Critical to improving the energy predictions and modelling data are the baseline calibration and measurement uncertainty of the in service anemometers. Accredited calibrations for Ultrasonic anemometers to ISO 17025 across wind speeds of 0.05 to 80 m/s are now feasible with a measurement uncertainty from 0.16% + 0.0003 m/s using laser doppler anemometry reference standards.
Related Articles
A ZephIR continuous wave (CW) lidar has completed 40 months of continuous operation during which time no maintenance or servicing has been conducted on the ZephIR.   A 91m IEC compliant mast at the UK ...Windtech International - Windtech International is the worldwide information magazine for the wind energy industry. It provides the ideal forum for the promotion and explanation of new products, techniques and applications. This trusted and well-respected source of information is read regularly by an increasing readership

SOH Wind Engineering has completed construction of a wind tunnel specialising in the calibration of anemometers and testing of wind actions (or forces) on large structures. In response to a request ...Windtech International - Windtech International is the worldwide information magazine for the wind energy industry. It provides the ideal forum for the promotion and explanation of new products, techniques and applications. This trusted and well-respected source of information is read regularly by an increasing readership

NRG Systems has introduced a new version of the WindSensor anemometer, the P2546C. Designed for resource assessment, site calibration, and power performance measurement, the WindSensor anemometer of ...Windtech International - Windtech International is the worldwide information magazine for the wind energy industry. It provides the ideal forum for the promotion and explanation of new products, techniques and applications. This trusted and well-respected source of information is read regularly by an increasing readership